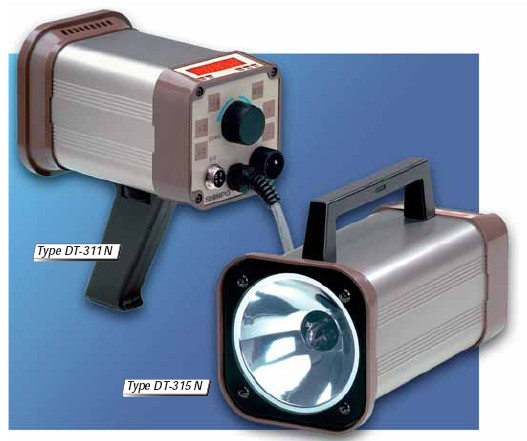 Type DT-311 N:
For revolutions up to 35000 min-1 Easy to operate controls
Easy to read LED display.
Detachable pistol-grip handle and mounting possibility on tripod.
Double-fl ash (x 2) and half-rate(÷2) fl ash selection for easy determination of true fl ash rate.
Provides synchronizing pulse output for other stroboscopes.
Accepts external trigger input:
Phase shift adjustment 0° to 359° permits movement of objects to desired position for best view and fl ash photography
Flash delay switch to move a freezed object slowly within 6 s.
Rugged aluminium housing
Principle:
If a periodic fl ash is aimed at a rapidly rotating or oscillating object at always the same position,

Technical data:

Flash range:

0.7 - 585 Hz
40 - 35000 min-1 (RPM)

Accuracy:

+/- 0.1% of reading +/- 1 digit

Flash duration:

10 - 40 s-1000

Power supply:

230 VAC, 50/60 Hz
10.5 - 15 VDC AKKU